Marketing Companies In Kenya
With the ever-growing advertising spends and the shift of pie towards digital, nobody needs an explanation as to why should one do digital marketing using marketing companies Kenya. Now is it as easy as we say? Just move money from offline to online is not going to achieve the results you are looking at in digital. Digital is a ruthless and cluttered medium. To cut through your audience you need to be convincing, different, and persistent. Putting posts on your social pages is not digital marketing, it is a well and thought through a strategy which is then amplified through right mediums. You need it all to create the right digital marketing plan, just that objective and priorities need to be set.
Why You Should Use Marketing Companies In Kenya
Strategy and Branding
Through multiple tools and plan, our strategy team makes sure your offerings are embraced by your target market right from the get-go. The team determines the certain types of customers for a brand that will buy their product or service and accordingly make well-informed marketing strategies aimed toward them, which ultimately develops trust relationship and defines vision, mission, and business goals.
We help organizations of any size navigate and find success in the digital world with the help of business model innovations and changes in user behavior.
Whether companies need to reorganize their existing marketing plans, talk to a new set of audiences, create brand personality and value or support an idea with out-of-the-box innovation, our team provides pragmatic solutions to stand out in the competitive market.
Digital Content
When you say or hear 'Content is King', trust us it is. In today's era of the content-hungry audience, it is the most crucial thing to connect with your audience and make them talk about you. Content helps you position your brand story in the right and keep engaging with your users on a long-term basis.
Now whether that is a long-format video, a short tactical bumper, daily social and viral content, or repository like a blog, our content experts can carve out a content strategy that keeps their users engaged with surprisingly useful things.
Social Media Marketing
Today social media platforms have the highest pie of Internet users worldwide spending more than 4 hrs. a day on an average.
This makes the medium the most lucrative place to capture and interact with our audience. Our Social media team understands that and loves to construct an organized strategy for this disruptive medium through content, new ad formats, and listening tool.
Now whether you need a frequent social content strategy or periodic campaign plan, our team can brew one of the finest campaigns to engage your audience. This continuous engagement effort helps the brand in community building and creating brand advocates.
SEO
Search is how you get to know about anything on this earth. Today 3 billion searches happen on Google every day, which means the so-called Low hanging fruit is right there ready to grab your brand. All you need to do is appear in their search results.
The SEO team at Global Desarts Media loves the ever-changing and challenging Panda and Penguin. They know how important is SEO to business and hence the first word you will hear from them will be content and not backlinks
Channels to Use in Marketing Your products or Services in Kenya
INSTAGRAM
Firstly, with over 1 billion monthly and more than 500 million daily active users, Instagram has become one of the most popular social media platforms. According to the statistics by Instagram, over 200 million users visit at least one business profile daily and about 60% of people discover new products. With the ever-growing numbers, it has become a popular tool to built brand awareness, connect with new audiences, and influence the purchase journey by targeting a highly engaged audience. You can talk to Marketing Companies In Kenya to help you set up.
WONDER WHAT DOES INSTAGRAM DO?
Instagram lets users take and share photos or videos along with a caption, to which their followers can interact by liking, commenting.
It offers three types of accounts i.e. Personal, Creator, and Business. For creating a business profile, switch to a professional account. A Facebook page of your business is mandatory for an Instagram business profile. Set up an account with a profile picture showcasing your brand and add a concise bio to tell your audience about your business and its services. The business tool features make it easy for users to contact you while it also provides insights about your followers and real-time metrics on how your posts and stories perform throughout the day.
Now that you have created an account, how do you start leveraging the benefits?
BENEFITS OF INSTAGRAM
CONTENT MARKETING
Instagram is entirely a visual platform. Creativity and quality of the content is the key to attract an audience and build engagement whilst promoting the brand and its services by various social media campaigns. Uploaded photos, videos, or IGTV (longer videos) remain on your feed while stories stay for 24 hours. Features such as location tagging, account mentions, hashtags, shoppable tags, stickers, comments, and reposts, etc. increase the visibility and allow brands to interact one-on-one with their audience.
ADVERTISEMENTS
Sponsored or Promoted posts are the ads to reach out to the target audience. Ads range from stories, photos, and video ads to carousels, collections, and ads in exploring along with the availability of CTA buttons. You can buy, run, and track ads within the application, through ads manager or Instagram partners.
SHOPPING
Instagram helps decide 80% of the audience to buy a product or service as the shopping features tap into people's behavior and turn your account into a shoppable storefront.
With all these features and a lot more, Instagram has largely influenced the landscape of visual marketing. However, uploading a few posts with captions is not going to bring quantifiable results for your business. Like any other online marketing platform, it takes consistency and a well-devised strategy to engage the audience and achieve results.
What started as a photo-sharing application nearly a decade ago has now emerged as an important tool that any digital marketer can't afford to ignore anymore!
Facebook
Are you ready to start building your business, Facebook Page? This quick guide will give you the step-by-step instructions you need to get your profile up and running! Or you can consult Marketing Companies In Kenya.
1. Make your Facebook business page
Visit www.Facebook.com/Business and click on "Create a Page" in the top right corner. Keep in mind, you'll need to link this business page to a personal account. Typically, the account of your social media manager (if you have one) is the best option. If not, use the account of the employee who will spearhead your Facebook marketing strategy.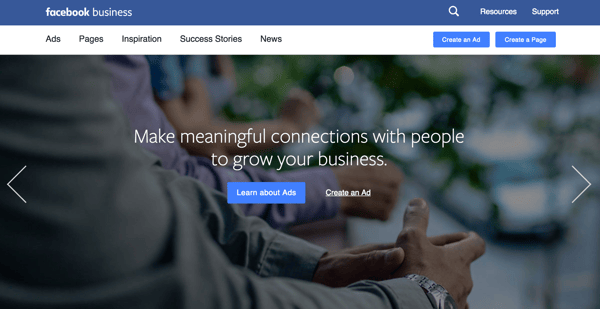 2. Select your business classification
This will bring you to the screen below. Since this Facebook Page is going to be for your company, click "Get Started" underneath where it says "Business or Brand."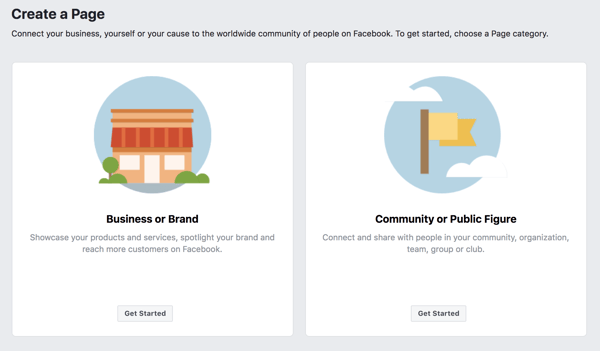 3. Add your company's information to the page
Next, you'll need to add in your company's information. The Page Name should be the name of your company. For category, take a look at the list of options, and select the choice that most closely fits your business model. You're required to enter a street address, but can opt to have it hidden if you would like – just check the box that says "Don't show my address." When you've finished filling in your information, click "Continue."
For businesses without a customer-facing physical address (for example, an online store), consider using the address of your headquarters or main office. Then, simply opt-out of showing the address if you choose.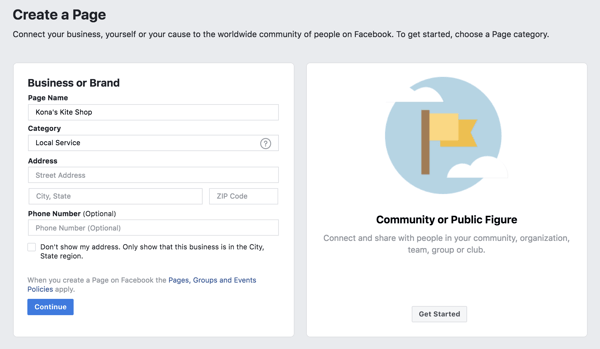 Remember that if you ever feel as though you or your company's information is being compromised, the best course of action is to change your password. For help on figuring out how to do so, head to our article on changing your Facebook password.
4. Upload visuals to your Facebook business page
At this point, you'll be prompted to upload a profile picture and a cover photo. Your profile picture should always be your logo. It will appear next to every update you post, so using your logo increases visibility and ensures your audience will associate it with the relevant content you post.
You'll also be required to upload a Facebook cover photo (make sure it's the ideal Facebook cover photo size!) This is the larger, banner-like photo that sits at the top of your profile. When uploading this picture, keep in mind the size of the image you select. The optimal size for a cover photo on a desktop is 315 pixels tall and 851 pixels wide. If it's much larger, you'll cut out some of the images. If it's too small, Facebook will stretch the photo, and it will become blurry. Though you can add a Facebook 360 photo on a personal page, at this time, Facebook business pages do not allow Facebook 360 photos as cover images. However, you can add them as general posts on the page.
While your profile picture should always be your logo, the cover photo offers an excellent opportunity to show off your brand's human side. Consider using a picture of your employees, your product in a creative way, or your most recent advertisement.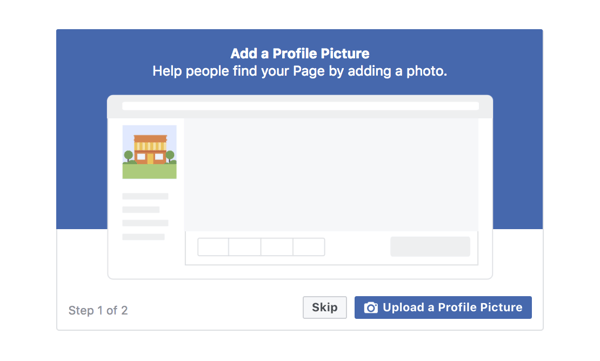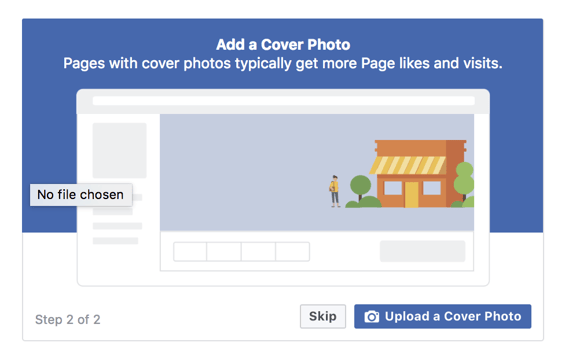 5. Complete your About section for your business
Once you upload your images, you'll see your page start to come together! To keep your audience well-informed, you'll need to makes sure your About section is filled with the details they may be seeking.
Use the menu on the left side of the page (just below your profile picture) to navigate to the About section. Then, fill in the information you think your customers will need! For example, if you're a physical shop, you'll need to add your weekly hours as well as your store's address.
Take advantage of this section's "story" feature, which allows you to tell fans a bit more about your company's history and mission. Sharing this with your fans will give them a glimpse into why you're doing what you're doing and humanize your brand.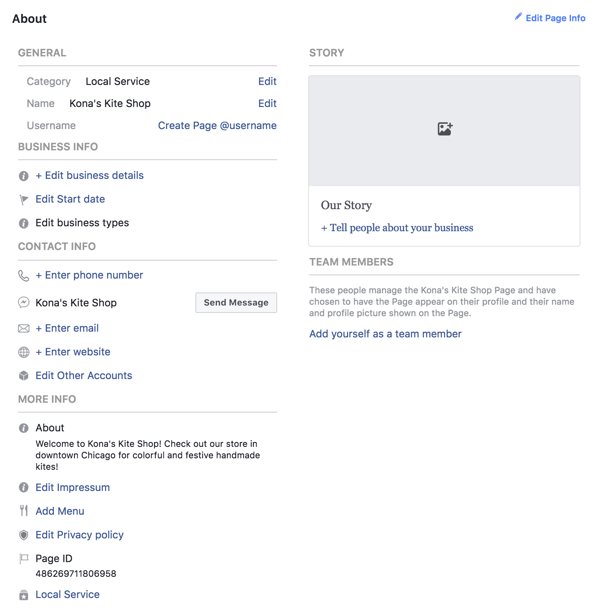 6. Explore your business page
You're almost there! Your company Facebook Page has all come together, and it's time for the finishing touches. On the homepage, you'll find some "Page Tips." I recommend clicking through these prompts and adding things like a short description, creating a username, and more.
These final touches are a simple step that will make your page the best it can be!
Another way to take advantage of your Facebook business page is by using polls to crowdsource within your community.
Facebook polls can be created within groups, business page and events and are used to gather real-time feedback from a variety of networks. As a business, you could use Facebook polls to pose questions to your audience regarding what changes they'd like to see in your store the next season.
Facebook polls are useful because they form a line of connection between you and your consumers and open up yet another place for you to interact with your audience.
Polls are created in much the same way posts are created. Instead of choosing to write a post or share a photo, choose to create a poll instead. Administrators can write a question and provide a list of answers, or allow those voting to include their own unique answers.
7. Integrating Facebook Shop 
There are plenty of Facebook add-ons that can help any business convert better from their business page. One of them is Facebook Shop for e-commerce businesses.
In order to add Facebook Shop into your business page, you must already have a page created. From there, you can integrate your existing e-commerce platform into Facebook Shop, allowing businesses to configure their Facebook Shop store, sell products directly on Facebook, and more.
Learn about how marketing teams can utilize other add-ons such as Facebook chatbots for their live chat needs.
If you're a nonprofit, you might want to raise money in other ways. Consider launching a Facebook fundraiser to encourage your friends and followers to donate.
8. Start posting on your new business Facebook page!
Now that you've built out your profile, you've gotten to the fun part – posting content for your audience to consume and engage with!
Once you post a quick hello and welcome to your audience, the Facebook world is your oyster! Post anything from your best performing blog post to a picture of your new office, to the latest industry news.
Social media is informal, so your Facebook profile should be no different! take the chance to engage with your audience. Ask them questions, request feedback, or invite them to your store's grand opening! To make things even more personal, you could go "live" and share your screen for virtual office tours, presentations, and more! Consumers have become especially loyal to their favorite brands. Anything you can post to engage with them will help to build valuable relationships with your Facebook fans.
Overall, be sure to post relevant content on a regular basis. As we mentioned earlier, an out-of-date Facebook Page may be as bad as no Facebook Page at all! Aim for at least one post a day, but don't go overboard! Never post just to post. Your audience will pick up on that and feel as if they're being spammed. Find a balance and make sure the content you do post is educational, informative, or interesting. All Marketing Companies In Kenya recommend the use of Facebook.
YOUTUBE
Given the growing popularity of video as a preferred medium for consuming knowledge, incorporating video in your marketing strategy should be a question of 'when' rather than 'if'. Firstly, YouTube is the ultimate platform to house your investment in marketing content, Marketing Companies In Kenya can help you on setting up youtube
Search Engine Friendly
YouTube is a search engine in its own right. Its allowing people to search just for video results that suit their needs and purposes. But in addition to this, your videos can also appear in a targeted Google search among written article results.
The reason that your YouTube videos can pop up on a Google list. This is of results is that YouTube is actually owned by Google. Videos pop up in your list of search results just as the written copy. This is would be provided that they have been well-titled using key SEO (Search Engine Optimisation) words in the title.
Embedding YouTube
Sharing and embedding the video from YouTube to other social media platforms and web pages is such a simple process. Ideally, your investment in a YouTube video can be used on a landing page. This is for your business and across multiple social platforms to capture potential customers. 
While YouTube might be the initial destination for your video, from there the options are endless. Facebook, LinkedIn, and Twitter, are just a few of the highly popular social platforms that businesses frequent with videos. The further your video is shared, the more exposure your business gets.
Is YouTube suited to all industries?
It is surprising how many different industries have successfully embraced YouTube as part of their marketing strategy. In the same way that television, print, or radio. So too can YouTube.
REQUIREMENTS FOR EARNING MONEY ON YOUTUBE
Anyone who wants to start making money on YouTube. You will need to reach these metrics before they can start earning any income. Consult us Marketing Companies In Kenya
A minimum of 1,000 subscribers
At least 4,000 hours of watch time within the past year
Both must be met within a single 12 month period
Plus, YouTube is highly competitive. There are thousands of channels on just about anything: from celebrity news commentary to playing video games (all day!). From rants about random topics and pop parodies to diaries of parents raising young children.
So, if you're thinking of starting a YouTube channel with the hope of making money. Then you'll need to come up with something uber unique that people can't get enough of.
Think you have what it takes, and are keen to give it a try? 
Marketing Companies In Kenya, call us today: +254720744763